Celebrating March as Developmental Disability Awareness Month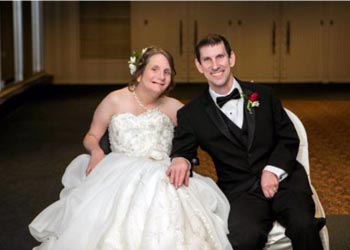 "We've been together for 20 years and I have always wanted to marry her but I could never make it a reality," said David Gorden, recently married to the love of his life, Maureen. "My bride and I have disabilities and because of the way entitlements are set up, we were always in fear of losing them so we never got married," said David.
"I contacted them secretly and filled out an application and the rest is history, before I knew it, I was planning a wedding without Maureen even knowing it!"
As the date grew closer and more people got involved, the secret was let out of the bag and Maureen found out but it didn't matter.
"I could not believe it! I could not stop smiling! I still can't believe it happened," said Maureen.
Everything from start to finish was donated, the dress, the hall, the food, entertainment, photographer, you name it. "They definitely made our dream come true," said David.
The couple had a "commitment ceremony" so they will not be in jeopardy of losing Social Security benefits. David and Maureen are supported by Community Living Services, a non-profit organization serving and supporting over 4,000 people with intellectual and developmental disabilities. CLS is funded through the Detroit Wayne Mental Health Authority. For more information, visit www.comlivserv.com